Still dwelling on your sweet memories of summer joys? Why not shake them all off and change the mindset entirely? Kind reminder: time to embrace some November-ness, as the month seems to have settled in quite comfortably. And we strongly advise you to go straight for its darkest possible shade! The Black Weeks, we mean. Don't expect any gloom – at ModulesGarden real bargains are already in full bloom!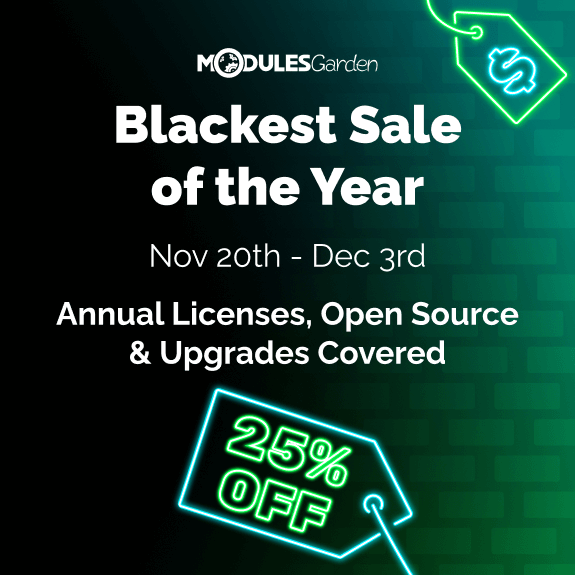 Our goal isn't to encourage impulsive shopping – what we truly aim at is providing you with ample time for the blessed purchasing celebration, the unique opportunity to assemble the perfect software arsenal for your business to prosper. And we all know that ModulesGarden is well known for an array of WHMCS must-haves!
It goes without saying that this mind-blowing sale relates to all of our goods – no harm done by clarifying it, though: pick between annual licenses and open source alternatives, or have your active license upgraded automatically, all of that at a record 25% discount!
Well, have you already started sifting through our exquisite WHMCS modules? You might want to do it now to avoid rush decisions later – after all, time flies, and so will this year's Black Weeks. This is why we have decided to once again let the fun last longer. Today, November 20th, marks just a humble beginning, the anticipated opener for the two-week marathon of wildly attractive prices! We close our virtual gates of this shopping bash on December 3rd.
The promo code: BlackWeeks25%
No limits, we say, let our dear customers plunge into the much welcome act of spending less, while not giving up on their software dreams!
The promotion has been implemented globally across our marketplace, with all products now available at the new reduced prices.
Join Black Weeks fun ride with 25% OFF!

,