In this era of breakneck digital evolution, being an entrepreneur often means pushing boundaries beyond off-the-shelf products. It's about charting your unique course through creativity and innovation, both easily stimulated with tailor-made software. Custom solutions empower businesses to meet challenges head-on, and that's exactly what our Developer Outsourcing and Software Development services are designed to deliver. What will bring an extra layer of encouragement to step onto this path right now is knowing that we have slashed prices across the entire range of this exclusive collaboration – small projects, medium, or large in scope – by up to 33%! So, let's dive into specifics and uncover how creating your own software arsenal can foster a transformative change in your business this Fall.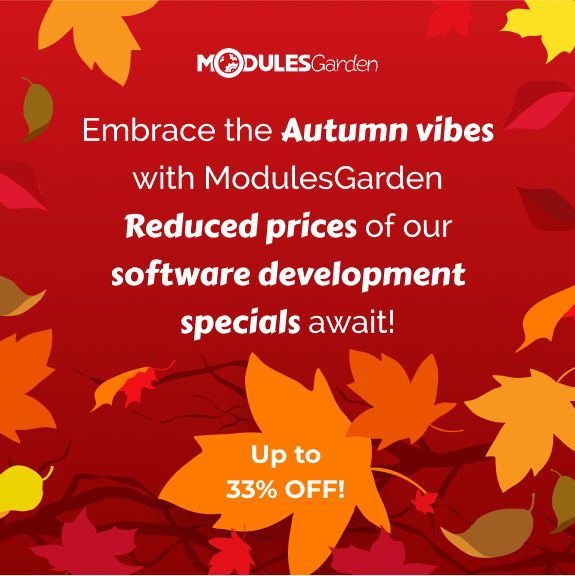 By outsourcing your software development needs, you tap into a dedicated network of our skilled professionals. This means having access to our diverse skill sets and expertise that may not be readily available in your local talent pool. Whether it's the rush of an urgent project or the steady rhythm of routine workflows, our service not only lightens the load but also unlocks a broader spectrum of capabilities. These include, but are not limited to:
Ongoing system and software maintenance
Swift resolution of daily operational challenges
Handling software development tasks on all complexity levels
Priority support services for technical assistance
Smooth software deployment and updates
Expert business and WHMCS consulting to steer you in the right direction
Just as every leaf has its unique pattern, so does every project. That is why, in addition to Developer Outsourcing, we offer another suite of services thoughtfully organized into three distinct categories, each tailored to address a different segment of your most common development needs:
Elevate your software infrastructure with full-fledged modules ready for immediate application, adding a fresh layer of functionality to your toolkit. No need to rearrange your trusted workflows from the ground up as these solutions are guaranteed to seamlessly integrate with your current WHMCS environment as well as the most popular web hosting control panels like cPanel, Plesk, or DirectAdmin.
Sponsored Feature Development:
If there is a missing piece of functionality in any of our products, consider it found. Our team can fill in that gap by harmoniously blending any necessary feature directly into our WHMCS module, which will later be incorporated into an official release for everyone to use.
Let's make it personal. Need a unique tool that aligns seamlessly with your business vision? We will not only tweak our WHMCS module to accommodate it, but also grant you access to its source code.
With nature setting a vivid example of change, Autumn emerges as the perfect season for your own transformation, and there is no better way to kickstart it than by infusing new life into your digital ecosystem. Having our team of dedicated experts ready to complete all your software-related tasks at discounted pricing rates, the journey ahead promises fresh starts and boundless new potential. Don't let this fall opportunity pass you by – today is the day to reach out. Let's supercharge your equipment, hand in hand!
Developer OutsourcingSoftware Development
Fall into Exclusive Software Development Discounts!

,