During fall the level of your motivation may mysteriously decrease – maybe you have already fallen victim to this common ailment. Fortunately, ModulesGarden knows a trick or two how to uplift your spirits in an instant! Drive all the bleak thoughts away with our freshly launched, unmatched promotion– save a considerable amount of money by spending money! Is it even possible? Read on and decide for yourself!
We are delighted to announce that from now on up until 8th October you have a unique chance to buy every product in our offer at a special 10% discount! All you have to do is copy the promotional code below, add the items you are keen on to your shopping cart and watch as the money you have just saved slip right back into your pocket!
Promo Code: #GoldenFallBoost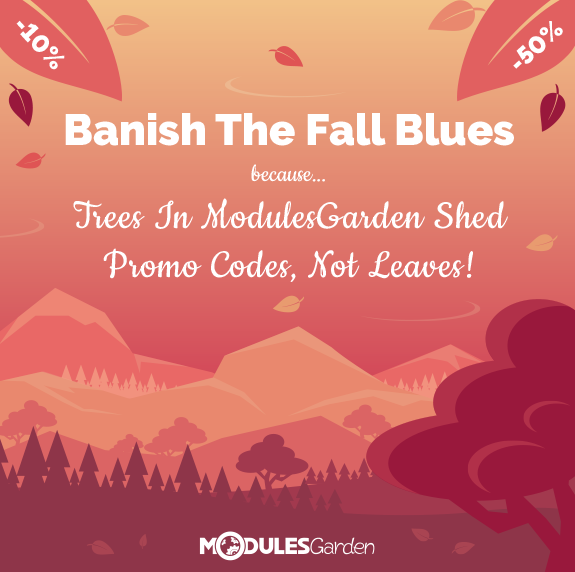 Do not get overexcited yet since this is not the end of our fall surprises! Are you contemplating buying our software goods, but feel that the annual license would not entirely satisfy your business needs? This is your lucky day – the above promo code is valid with open source products as well!
Such a milestone is truly exceptional even to our unique standards. Do not delay then – boost your core platform with any piece of software your heart desires:
Believe it or not, but this is still not where our revelation ends! If you are interested in a tailor-made solution designed according to your very specifications, we have a different, yet even more appealing proposition just for you. Each and every customization requested and paid for by the end of October will be awarded with a massive 50% discount for any single module or extension of your choosing!
Do you still feel like all fall has to offer is chill and low spirits? We sincerely hope our exhilarating promotion will warm up these upcoming cold days and your mood a little bit!
Heat Up Your Fall With Our Hot Promotion!

,