Is it possible to describe a company with a few numbers only? What if we told you that it is not only possible but also highly expressive? And what if these numbers were a multiple of ten and even started with the same digit? That would be interesting, wouldn't it? Let's see how ModulesGarden can fit into this concept.
These are our three golden numbers. Each one of them represents different values which are closely interlinked with each other. As it is known, any given company is composed from a set of many connected factors, assets and achievements. All of them together form the current shape of a company and the way it is perceived by its customers. Generally, you shall be able to distinguish just a few of them which describe your business in mere seconds. Can you do that?
In our case the numbers are mostly related to custom software development services which basically are the backbone of our business. Let's see what hides behind the nine digits above.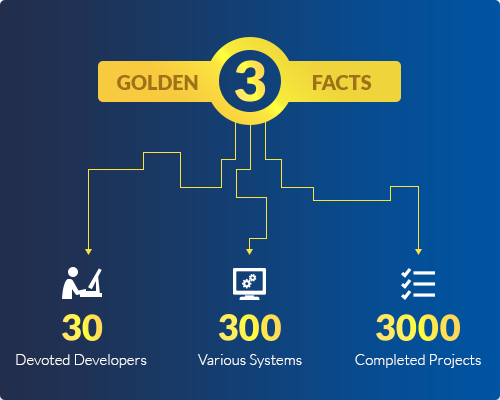 30 Devoted Developers – From only 2 of them back in 2011, up to 30 qualified software developers now. ModulesGarden hires programmers with a wide range of abilities and interests who specialize in many fields. All these to be able to cope with your expectations and to be capable of delivering you the finest software related to web hosting, eCommerce, web applications and CMS. Our developers simply love what they do! Naturally, they are not the only ones who work for ModulesGarden and care about your projects but that is a topic for another article.
300 Various Systems – In the course of our several years lasting adventure with professional software development we had the unquestionable pleasure to work on many systems, platforms and web applications. We have coded

with

WHMCS, cPanel, Magento, Plesk, WordPress, Blesta, PrestaShop, OnApp, Proxmox, SolusVM, OpenStack, Rackspace, Zendesk, Kayako, Asterisk, EasyDCIM, Virtuozzo, DirectAdmin, SpamExperts, CloudFlare, OpenSRS, PayPal, GoDaddy, Amazon Payments, RushFiles and many more!
3000 Completed Projects – The number which fills us with pride. To the present day, we have succeeded in delivering over three thousand custom software development projects to our

satisfied customers who keep coming back for more

. Owing to such a great number of projects, we acquired so much experience and useful skills to be ready to accept any project request and any challenge. Would you like us to build a system from scratch? Not a problem!
Can you describe your business in any three numbers? Feel free to share them in the comments section below.
A little puzzle! 
Can you guess how many software developers have been constantly working for ModulesGarden for at least 3 years?
The most accurate answer will be rewarded with a $100 discount for any project! The lucky winner will be announced by the end of August so stay tuned.
ModulesGarden In Three Golden Numbers

,