Line after line, phrase after phrase, and month after month. This is how a simple idea we once had evolved into a full-fledged solution that we are immensely proud to share with you today.
Ladies and gentlemen, we are delivering to your ready hands the most comprehensive Polish Language Translation For WHMCS ever created!
Considering several factors, it was only a matter of time before this project came into fruition. First of all, being actively involved in the development of WHMCS-related software and having Polish as our own mother tongue, we felt more than up to the challenge. We were absolutely fired up about the prospect. Especially after noticing there was quite a huge demand for such a solution, but not much supply really.
What does our translation offer?
Polish Language Translation For WHMCS is more than just a collection of isolated word-for-word renditions. The ultimate file consists of almost complete 7500 phrases that were carefully researched, translated and thoroughly tested by a dedicated team of experts including a Language QA Specialist. Our product will translate every single section of your WHMCS into the Polish language, without skipping even the tiniest expression that we could find a suitable equivalent for.
Your WHMCS will no longer have any secrets from you once you switch the default language of the admin area into your mother tongue, and leave no room for uncertainties. What is more, each of your administrators will be able to make this customization on their own, according to their personal preferences.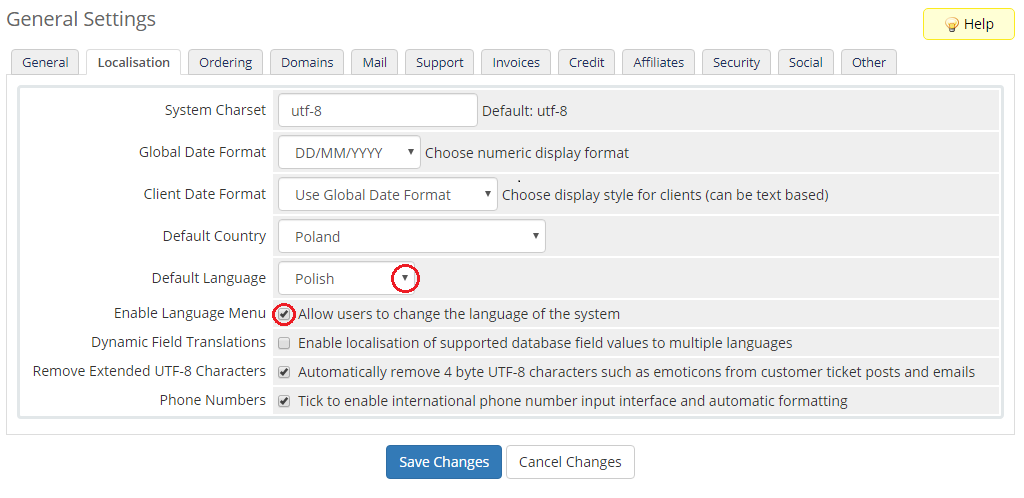 Not really much of a Polish speaker yourself, but have quite a lot of customers who use it in everyday communication? Change the language of your client area with a single click or let visitors do it themselves to navigate through your WHMCS in the way they feel most comfortable with!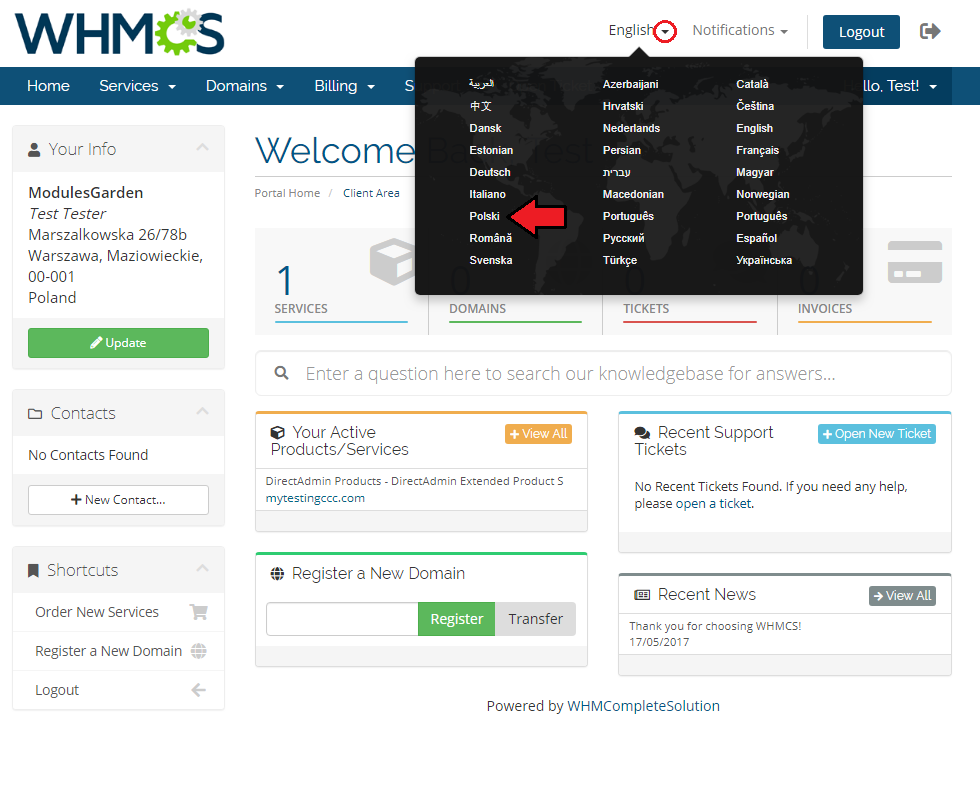 What other benefits can you gain?
WHMCS currently offers the choice of 13 admin area language versions and twice as many for client area. Polish Language Translation For WHMCS delivers one more alternative at your disposal, granting you a handful of other cannot-ignore assets at the same time:
Most cost-effective model for highest-quality translation available
Regular translation updates
Access to the source code of the product and possibility to perform custom modifications
Integration with our Geolocation Hook For WHMCS letting you switch the current language of your WHMCS client area into Polish automatically upon detecting the client's IP address.
Language choice – such a seemingly simple feature, and yet a life-saver to so many. Even though English is nowadays one of the most commonly used and understood languages all over the world, in business context the misinterpretation of even a single word or expression may lead to unpleasant consequences. And if you can successfully avoid them by switching to a language you are most fluent in, why not do it?
Visit the main page of Polish Language Translation For WHMCS on our Marketplace and treat yourself to the phenomenal 10% discount that awaits early birds this week!
Polish Translation For WHMCS? It's Right Here!

,