It is a matter of great pleasure for us to introduce the first from the broad scope of substantial improvements planned for this year to elevate the user experience to the highest standards, thus make our cooperation even swifter, more effortless and perfectly efficient!
All the aspects of our custom software development services, including the process of ordering, costs assessing and solution creation, have undergone a revamp to become a supremely seamless and hassle-free standard for all customers! Starting from a spanking new quotation system, through each, clearly described phase of development and ending with a ready product release – our client area has been enriched with two new, interrelated sections to gather in a single place all key data about new custom projects arranged henceforward. By virtue of these, not only will you receive a product decidedly sooner but the product itself will be far better adjusted to your business needs!
The solution offers every convenience for even the busiest from our customers. Feast your eyes with these sneak peek screen shots from our client area and be sure to check your account for more!
We know that making purchase decisions can be tricky and we wish to make this process easier for you. To this end, all our provisional findings on the project, such as the total cost, payment terms or ETA, are now assembled in a transparent manner in the novel, innovative quotation system located in 'Quotations' section. And that is not everything! Now you can readily choose from plenty of additional services and facilitation to tailor the software to your exact requirements.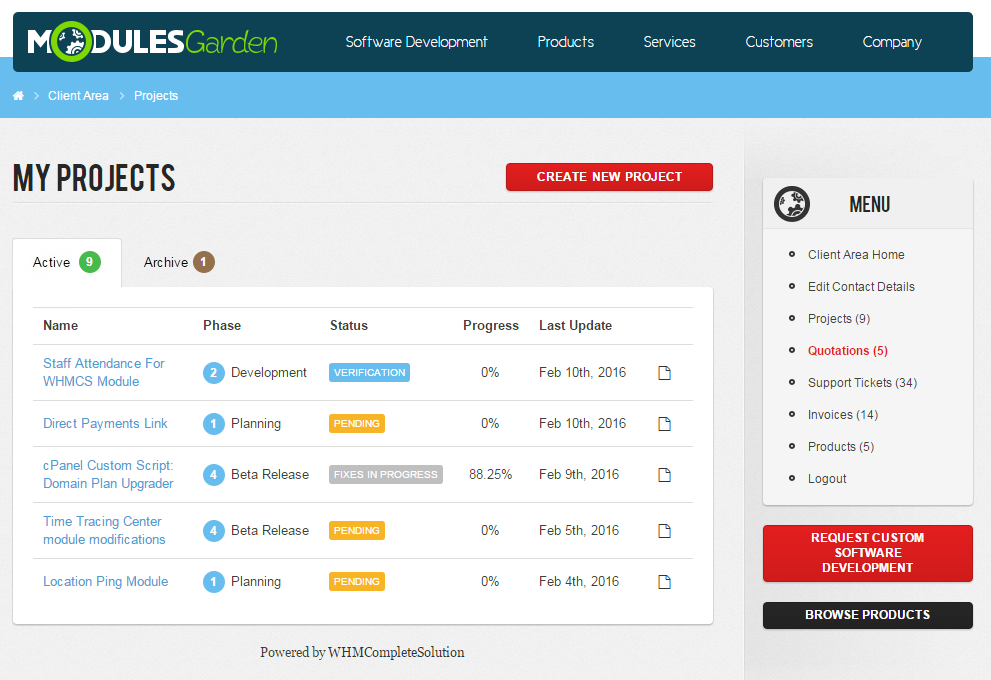 Keeping clients well-informed throughout the entire sale process is one of the principal aspects of successful business relationships. That is why we have built a comprehensive and exhaustive knowledge center in 'My Projects' section. Thanks to it, you will be able to actively monitor ongoing progress in the work on your piece of software, keep track of each task carried out by our team as well as contact the developer whenever you need. All these and many more to keep you fully up-to-date with your project!
To give you all the more reason to discover these remarkable enhancements, we have prepared a special 10% discount for our custom software development services! Should you wish to take this great opportunity, simply click the button below to fill out our request form and the promo code MGForSoftware will be applied automatically! The promotion is valid until the end of March.
Software Projects Control Center

,