They say all you need is love. But some extra savings don't hurt either, right? That's why this year we're going the extra mile to redefine Valentine's Day and give you a whole week of our Valentine's Promotion with discounts quickly going up from the starting level of 10%! A perfect opportunity to spoil yourself, and find the way to the hearts of your customers at the same time!
It takes two to tango
You may already be familiar with our Bulk Order Discount, but if not, we're here to explain. It's one of our guaranteed price markdowns which grows depending on the number of WHMCS modules you add to the shopping cart, be they annual licenses or open source versions. Usually, the promotion starts with 5% off at least 3 products ordered in bulk, but specially for you, we've decided to spice these conditions up!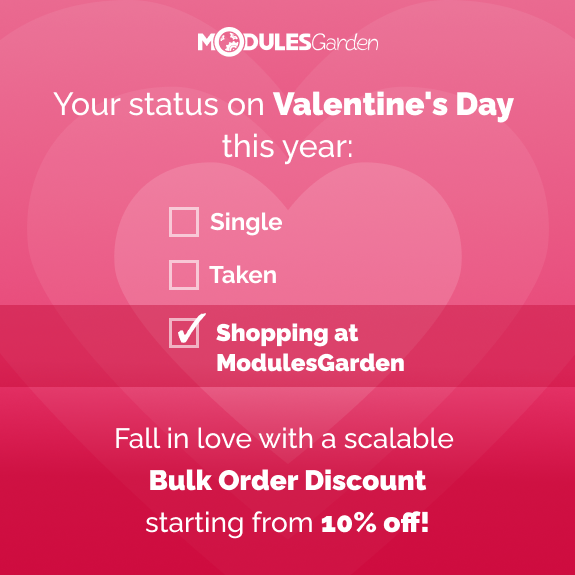 Only during the Valentine's Week at ModulesGarden, you can access Bulk Order Discount by ordering as few as two modules, plus the savings begin at 10% off! By the same token, you will pay 15% less for 5 products, 20% less for 10 products… and so on, up to 30%! The more, the merrier, so it's your time to be a matchmaker!
Oh, and one more thing – it's not without reason that we referred to the Bulk Order Discount as just one of several guaranteed deals. This was done to make sure you're aware that it can be combined freely with all other discounts applied automatically at the checkout, such as Deal Of The Day or its longer-lasting Deal Of The Week edition, as well as Recommended Product discount.

Match made in Heaven!
So, you love a good discount but are still slightly unsure what to get? Let us assist! We have picked several invincible duos within our WHMCS product base that complement each other like no other:
Proxmox VE VPS ❤ Products Reseller
When put together, these two will not only help you grow a circle of trusted resellers, but also make their reselling experience second to none, with the range of available products extended to include Proxmox virtual machines.
Combine these true legends if you would like your clients to experience the undeniable comfort of managing their cPanel web hosting accounts, together with DNS zones and records, without ever leaving your website.
This innovative combo makes it not only possible, but also extremely easy to reach out to your clients via text messages, whether sent singly or in bulk, for each of your brands individually. Does it get any better than this?
OpenStack VPS & Cloud ❤ Server Allocator
There is no other pair like this one – we mean, one that would help you efficiently supply servers from over 20 different providers via your WHMCS, and at the same time, make sure they are precisely matched (pun intended!) to your clients' needs.
Imagine your secret weapon for complex client base management joining forces with the set of intelligent reports on the ins and outs of your customer relationships. Yes, it's that great!
Discount Center ❤ Lagom One Step Order Form
Let's just say that your clients will feel attracted not only by the on-trend order form on your website, but also by the various forms of discounts it displays, all thanks to this famous integration.
Hetzner VPS ❤ Advanced Billing
This delightful couple is responsible equally for empowering you to automate the handling of Hetzner virtual machines, and charging your customers in the fairest manner possible, i.e. only for the resources they have actually consumed.
cPanel/Plesk/DirectAdmin Extended ❤ WordPress Manager
Each one of these well-working control panel alternatives is meant to save your customers the hassle of leaving your website whenever they need to perform any key action on either their web hosting accounts or WordPress installations.
Domains Reseller ❤ Domain Orders Extended
If you wish to squeeze all the potential out of reselling TLDs, rely on a winning combination of tools designed to help you effectively manage your resellers and broaden the assortment of domain search tools in your system.
Product Cross-Selling ❤ Product Free Trial Manager
Drum up your sales by first letting customers test your products completely free of any charge, and then suggesting them additional products and addons as they shop on your website. Win win!
Well, if that doesn't make your heart beat faster, we don't know what else would. However, unlike deep sympathy toward our clients, this promotion will not last forever. You have until February 15th only, so go get your modules in a heartbeat!
Find your perfect match during our Valentine's Week!

,