We pride ourselves fiercely on serving some of the biggest, fastest-growing companies in tech. It is through the powerful combination of ModulesGarden WHMCS modules, EasyDCIM and MetricsCube that we have had the pleasure of delivering new levels of automation to Zonat S.A. – a company successfully building and growing some of the best web hosting and domain registration brands of all time. They've created tools to build, manage and secure your online presence like the Easy Site Builder – to set up a website in minutes, as well as a revolutionary Static Site Generator to manage and secure WP sites, and they specialize in providing affordable and full-featured web hosting packages.
Just recently, Zonat S.A. agreed to join us in a brief chat, and spilled some beans on what it's like to work with ModulesGarden for almost half a decade. Have a compelling reading!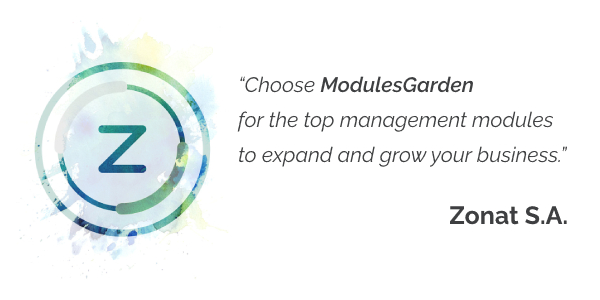 ModulesGarden: Why did you choose ModulesGarden?
Zonat S.A.: We use ModulesGarden because using existing and tested tools makes life much easier for us. Instead of spending time planning and developing digital tools, we simply use one of yours – especially since you offer a 7-day free trial!
ModulesGarden: Which of our products would you say have helped you the most in your business?
Zonat S.A.: We regularly acquire other hosting businesses using WHMCS, so we like using Multibrand For WHMCS from ModulesGarden. It works like a charm and makes it easy for use to integrate different brands under one umbrella. Our sales team also loves the CRM For WHMCS from ModulesGarden because it makes following up with leads and potentials very easy. In the past, we used to use other CRM systems, but the direct integration in WHMCS is definitely an advantage.
ModulesGarden: Multibrand For WHMCS is our flagship product for companies that oversee lots of different brands. How exactly do you use it to grow your business?
Zonat S.A.: We use Multibrand to group all our websites like http://luxhosting.lu or http://www.hosting.co.uk so we can manage them all from one platform. WHMCS has been a gamechanger for the hosting industry, but when we first started using it, we didn't have Multibrand. That meant we had to have separate domains for payment, and it was more difficult to build custom products for each brand. Now that we have Multibrand, we can have a similar domain for payment for all our brands, and we can easily create custom products. This speeds up the innovation process, and it's been a huge relief to be able to quickly bring more of our ideas to life.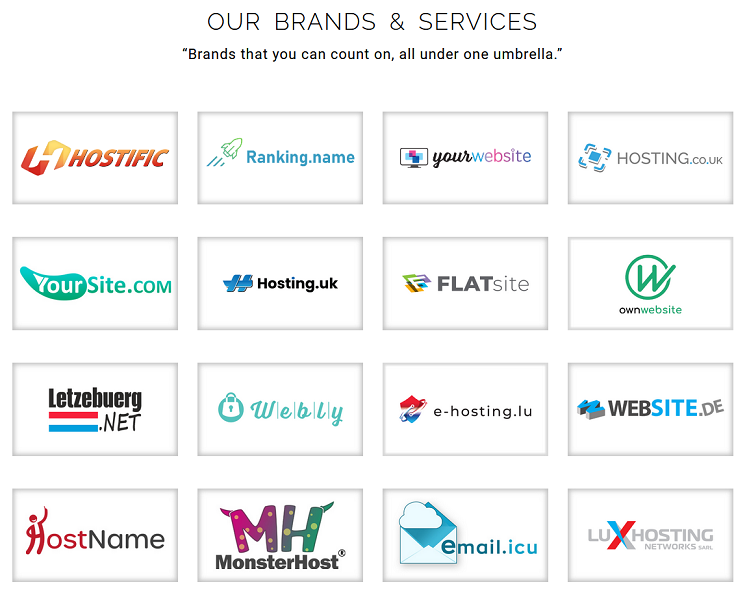 ModulesGarden: Does Multibrand For WHMCS help with your customer support process?
Zonat S.A.: Multibrand has streamlined our customer support system, and it's a huge part of the reason we've been able to keep our clients so happy. If you're in charge of multiple brands, you know how difficult it can be to keep track of everything you're doing for each brand, and when you add customers to the mix, things can get downright unwieldy. But because we use Multibrand, our customer support ticketing system is completely centralised. All the messages come in under one dashboard, and we can clearly see which brand the customer is contacting us from. This makes things a lot easier, because none of our customers get left behind, and we can quickly address issues before they end up snowballing and costing us our reputation.
ModulesGarden: And how has Mulitbrand For WHMCS helped with your emailing process?
Zonat S.A.: We actually use Multibrand's emailing features almost daily. Zonat S.A. is constantly acquiring new brands, and it's really important to us that we don't lose productivity and efficiency as we get bigger. The Multibrand feature from ModulesGarden makes it really easy to send emails from multiple brands. We love that when we're sending an email, there's actually a field called "Brands" that brings up all our brands when we click on it. That way, we can send a mass email from all our brands at the same time. This feature saves so much time, because without it, we'd be forced to send emails from one brand at a time, or we'd need several licenses for all our brands.
ModulesGarden: Earlier in our conversation, you said you also love using our CRM For WHMCS tool. What's your favorite thing about it?
Zonat S.A.: We love how much control we have over it. It's so flexible and easy to tailor to our needs. Your company updates the tool constantly, and every change that's made to it always makes sense. The change log makes it easy to keep track of all the changes, as well. And because it's open source, if we notice that there's some feature from which our team would benefit, we can mention it in the forum, and your team will get right on it. Or if we're so inclined, we can even have our development team work on something and then share it with you. Making your CRM open source was truly an inspired move, and it makes it so much easier to innovate.
ModulesGarden: In general, what's been your experience working with ModulesGarden?
Zonat S.A.: At Zonat, we're big on innovation and growth. We're in tech, so we can't afford to stay in the same place, or we'll quickly get left behind by newer, hungrier companies. So, we really appreciate working with a company that values innovation and progress as well. It's easy to work with you because our values are so well aligned. At ModulesGarden, you're constantly creating new software for billing and management. And you have such a large offering of products that whenever we want software with a special feature that will make our business run more smoothly, we always check ModulesGarden first, because chances are, you've already developed it. And your team responds really quickly to requests, so on the off chance that we want something you haven't gotten around to creating yet, all we have to do is ask. And having that kind of safety net helps our company feel more confident as we soar to higher heights.
ModulesGarden: Thanks for meeting with us.
Zonat S.A.: Always a pleasure.
And there you have it!
Zonat S.A. is a fast-growing, innovative company that manages multiple brands with the help of the modules we create here at ModulesGarden, hand in hand with EasyDCIM's data center management panel and MetricsCube's advanced reporting tool. Think of how much time your company could save using such a productivity boosting equipment! Don't waste time making new software from scratch if you can check out our products first. You might be surprised to find that we've already created the perfect piece of software to take your company to the next level!
When Multibrand, EasyDCIM & MetricsCube work hand in glove - Zonat S.A. Success Story

,