Seven years ago we had a clear-set vision of what type of company we wanted to be. A company which would leave an everlasting impact on the web hosting industry through setting new trends, shaping mindsets, and fostering innovation. And ever since then we have been on a mission to help companies worldwide live up to excellence in every possible dimension. It is therefore an unspeakable pleasure to announce that after years of steady growth, we have welcomed over 20,000 business customers to the ModulesGarden family! Taking this exceptional occasion, we wanted most of all to express how honored we are for your gracious patronage.
By combining our own intense efforts and cutting-edge technology with your continued support, day by day we make small changes that will ripple through the web hosting landscape for many generations to come. Among the numerous accomplishments we boast of the most is our sizable collection of ready-made WHMCS modules (over 100 products), and custom software development projects that let thousands of businesses spread their wings with a whole new level of confidence. Following the voice of our customers, we have also remolded one of our prime services so as to reflect more the flexible nature of modern enterprises. Developer Outsourcing, the fruit of these endeavors, is an absolute novelty in our offer focused on providing assorted development services and technical support to even the most perfection-oriented clients.
We are overwhelmed with pride to have such loyal, understanding, and inspiring customers as you. While it is by no means original of us to say that you are the very lifeblood of ModulesGarden, all the things we can still achieve together in the future certainly are unique! Hope you look forward to all these exciting developments just as strongly as we do!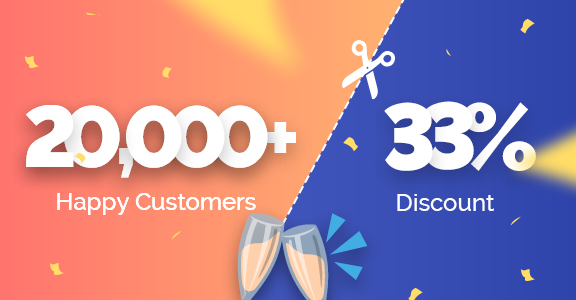 All that being said, let us not forget why we are really here. As you played a pivotal role in helping us reach such a memorable milestone, this is your celebration more than anyone else′s. For this reason, please accept from the ever-grateful ModulesGarden team a thank you gift most suited to this occasion!
Welcome with open arms a gigantic 33% discount applicable to every single product in the annual license available on our Product Marketplace.

Promo Code: 20K33%
Plan much bigger? Like the open source kind of bigger? We have something special for you, too! Choose whatever product in the decoded version you desire and we will reduce its price by as much as 11%!

Promo Code: 20K11%OS
Simply copy the code you wish to apply and paste it into the 'Promo Code' box while placing an order. Pretty simple, isn't it? Now the best news of all! Both bargains offered above can be combined with other active promotions on our website including Deal Of The Week, Deal Of The Day, or a bulk discount, which only means your can drive your savings to sky-high levels. Be sure to squeeze out as much as you can from the promotion before the end of 10th September 2018!
Ready to give in to the shopping frenzy?
Pick what you want & pay less!
And how would you describe partnering with ModulesGarden? Is there any aspect of this ongoing cooperation in particular that fills you with joy, satisfaction, or motivation? Please feel free to share all your remarks in the comments section below!
20,000 Customers Trusted ModulesGarden!

,