My professional life has revolved around the web hosting industry for nearly 10 years, focusing primarily on billing system integrations like WHMCS. With ModulesGarden, we've provided development services for over thousands of projects, created hundreds of official modules for WHMCS, and have had the pleasure of working with small to corporate-level customers in nearly every country across the globe. Much to my pride, this wealth of direct experience has been recently brought into a completely new game-changing project.
Two weeks ago, together with my INBS.Software team we released MetricsCube – a data analytics tool providing a completely new approach for web hosting companies to help them keep better track of their venture. Starting with comprehensive WHMCS integration, our mission is to deliver a new level of reporting and monitoring tool in sync with the most widely respected web applications. A must-have solution for anyone who strives to grow their company and need extra supplies of data to make significant business decisions.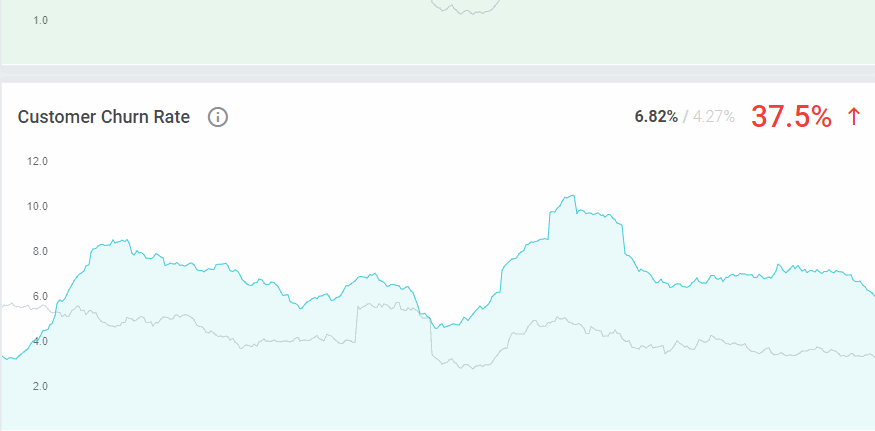 It is super easy to access at a glance your most important reports!
Why did I decide to create MetricsCube?
I have been using WHMCS on a few businesses myself, but throughout my entire professional journey, I was never able to get quick access to the important metrics and have a clear vision of what is currently happening. Things tend to get more and more complicated when your business is growing, and you can easily lose track of what is actually going on. As a business owner you want to focus on crucial operations, and finding spare time to build a complex reporting tool is always a tough task. You'd rather spend this time on something else, wouldn't you?
In the meantime, we had lots of inquiries from our clients who shared the same burning need for a more advanced data analysis tool. The default WHMCS reporting is good for starters, but eventually becomes a pain for any subscription business because of the lack of more complex reports like MRR, LTV or Churn.
Having that in mind, we've decided to develop a SaaS platform that will serve both us and our clients at once!
What makes MetricsCube so valuable for web hosting companies?
Similar solutions like Chartmogul or Baremetrics offer very poor or no connection with WHMCS whatsoever. They often don't provide well crafted integration with any of the popular web applications at all. Our unique approach lies in having strong, dedicated integration with different systems, starting with WHMCS. Given our 10-year experience in the web hosting industry, we are determined to expand this list through building integrations with cPanel and Plesk – driven by the goal not to limit our reports to just financial data analysis.
We know what reports are the most valuable for web hosting companies and we aim to deliver them!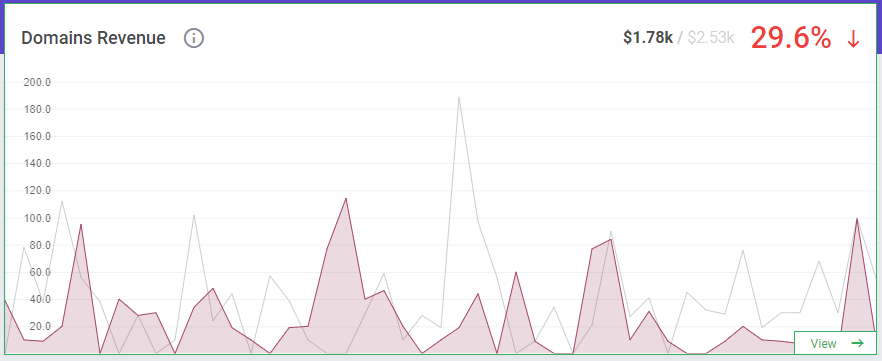 MetricsCube includes more reports directed towards a web hosting company than any other solution on the market!
Is MetricsCube useful for a small company?
Absolutely! This might be one of the biggest mistakes that small businesses make – they assume that because they are not a huge enterprise yet, those complex, and often intimidating reports don't really matter. Wrong! Small companies are expected to grow more than any other businesses. And if you want to thrive, you need to know what's going on!
In terms of pricing, we have tried to make the model as much flexible as possible. If you feel that $24.95 per month amounts to overkill, and your business is just starting up, do not hesitate to drop us an email at [email protected]. At one time we too were in the "start-up" phase, and we know very well how important it is to keep the costs low in the outset. We want to help small companies to evolve and succeed!
What if you're not that much into numbers?
We are aware that many reports are not entirely clear to everyone. Considering that the data analysis itself is not quite popular in the web hosting industry, especially among the small companies, we want to educate! My goal is to prepare a series of Blog articles explaining the most valuable metrics for any subscription business. If you are looking for more resources, and want to extend your knowledge in this domain, go visit our Blog at: https://www.metricscube.io/blog/ where I'll be posting new articles every 1-2 weeks.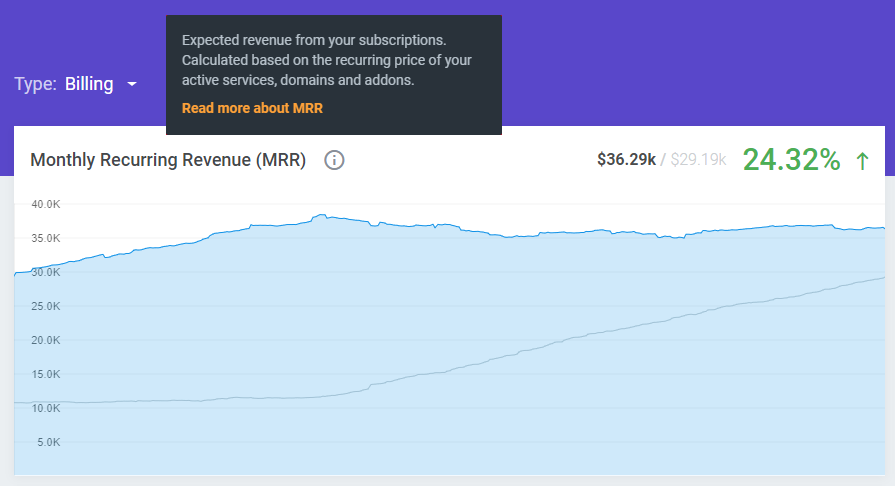 Not sure what the report is about? A single peek at the extra comment and you get the hang of it!
What is our next move?
The official launch is merely the first on the long list of milestones we want to reach in the next couple of months. Before we move on to integration with other systems, however, we focus on further extending the connection with WHMCS:
At least 70 built-in reports for WHMCS – We plan to introduce around 5 new reports every few weeks.
Multibrand functionality – Having more than one system? No problem, you can monitor all your brands under a single account.
Subaccounts – You can invite your employees and choose what reports or brands they have access to.
Extra comparing tool – With Multibrand support, you will be able to easily compare data from all your businesses.
Expenses tracking – YES, the system will let you define expenses as well as calculate NET revenues and extra reports to monitor your spendings!
… and lots more:

Two-factor authentication
PDF export
Forecasting
Trendlines
Favourite reports
Custom dashboards
Goals
Comments on graphs
Not only as a founder, but mostly as an active enjoyer of MetricsCube, I send out an open invitation to give this very practical tool a try. Make a lightning-fast analysis of your business and discover its strengths you never knew even existed!
MetricsCube through the eyes of its founder

,