Seeing the warm welcome our recently redesigned License Upgrade mechanism was met with, we decided to push things a bit further. Now it is time for the phase two of our completely new approach to open source products! The most notable difference that you can and will surely be excited to find is the base price of our decoded WHMCS modules available on the Product Marketplace. Most of them are now offered at considerably more attractive pricing model which have been optimized taking into prior consideration several key factors, the unique needs of our customers included.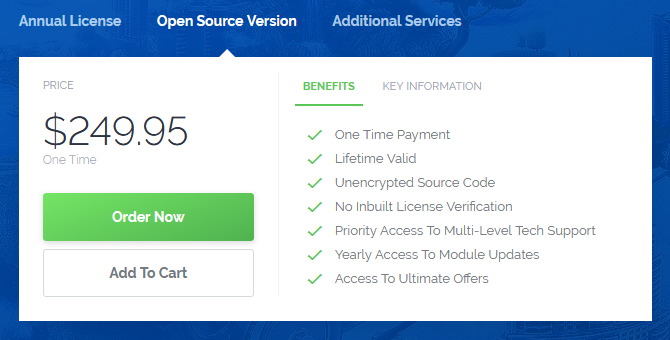 If you already possess rich experience with unencrypted software, you most probably require no further explanation how hugely this exceptional new formula is going to profit your business. But for all the novices who are just taking their first steps in the field, we have prepared a very brief summary of the main benefits this type of product goes hand in hand with:
Even if fully automated, the process of renewing the annual license for the modules may not fit perfectly into every business scheme. If such is your case, you will surely be relieved to know that after you have purchased the open source tool, you can sit back and relax, as there will be no further obligatory charges, and the product itself will remain valid for lifetime. No restrictions then on how long you will be allowed to use it – this decision is entirely up to you.
By getting access to the unencrypted source code, you may modify virtually every existing functionality of the tool, shaping it to your own requirements. Should you wish to have our developers implement the desired solution for you instead, open source version will also be the starting point of any further operations.
Since decoded software has no inbuilt license verification procedures, you are spared the bother of providing activation keys or connecting with our servers. Simply upload the product and start using it – fast and easy.
As an owner of an open source product, all your tickets will be handled by our technical support team with the highest level of priority and expertise. That way, any obstacles that you might encounter will be addressed at once, allowing you to deploy new solutions more smoothly.
Along with the decoded product, you are granted yearly access to module's updates, so that you could fully enjoy each newly introduced functionality in your own tool as well. Once that period has expired, you are welcome to extend the access for another year any time you need, now at a price more appealing than ever before.
Last but not least, our open source customers are frequently let in on some exclusive discounts unavailable to anyone else but them. Eager on some savings? Our staff are great listeners that can be reasoned with!
Open source software is still quite veiled in many mysteries. But at ModulesGarden we bet on utmost transparency and simplicity in this regard. The brand-new open source purchase formula we adapted fairly recently is aimed to perpetuate this very tradition, at the same time ensuring you can derive only the best advantages from our WHMCS products.
Enter the World of Open Source!
Have other urgent questions related to our decoded software that were not covered in the article? Feeling hesitant whether such a long-term investment is the right decision for your company?
Our specialists at the Product Pre-Sales department will gladly hear you out and advise on the most sensible solution. Let's get in touch!
Open Source Overhaul To Magnify Your Business!

,