If there is one day in a whole year evoking in all people without exceptions a similar urge to lose oneself in the shopping delights, it must be Black Friday. How about we make the appetites twice as much voracious by pushing the buying spree into the full Cyber Black Week marathon?
ModulesGarden has a gift for discovering what clients' dreams are made of. This year we really outdid ourselves, ensuring they will instantly come true with a little aid of the mind-blowing 21% discount for the entire collection of our products. Should it be an annual license, an open source version, or both – do not let anyone stop you from snatching up the hottest modules you have had an eye for the last 12 months!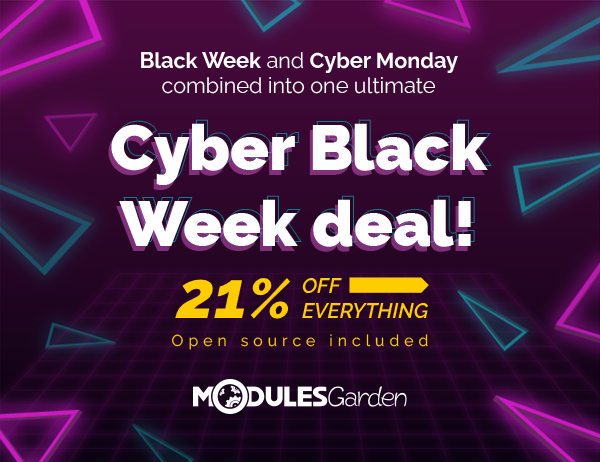 Take a pleasurable stroll through our Marketplace and order any single WHMCS module your heart longs for – all necessary pricing arrangements have already been taken care of, so there are no extra steps required to pay less. As we want to give free rein to your software desires, we have unlocked the bonus that allows you to upgrade any active product into the unencrypted version at a price reduced not only by 100% of the amount you have previously paid for the license, but also by our impressive Cyber Black Week discount! Do you think one more reason to grasp the bargain would be too much already? We don't think so either. Hence, there is absolutely no limit of how many items you can fill your shopping cart with. Trust us when we say, there will literally be no better time to give your WHMCS system a much needed power-up!
Brace yourself though: this spicy deal is just as appealing as it is limited in time, so be quick and stock up on your software supplies before the close of November!
Get lost in the Cyber Black Week madness!

,