On a scale of 1 to 10, how much has the game changed for you as a result of cPanel's decision to drop the pay-per-server model? Actually, you don't have to answer, because we asked you exactly the same question back in October 2020 via a short survey that gave us far more food for thought than we originally imagined, and laid the groundwork for a brand-new product that, at present, helps dozens of web hosters successfully deal with the new reality. Today, after almost three years from this historic transition, we are taking a closer look at how cPanel users are doing, and how our Inactive Account Manager For cPanel module managed to ensure that there's nothing but smooth sailing ahead of them.
The Before
cPanel was founded in 1997 and has continued to make a name for itself on the web hosting scene ever since, as a collection of gear compiled especially with shared and reseller hosting in mind. To maintain the number-one ranking among control panels, a completely new approach was undertaken when cPanel was acquired by a group led by Oakley Capital, the same that taken over Plesk and SolusVM.

As a result, after years of serving the global community on a per-server pricing basis, cPanel broke the news about an important change in both pricing and licensing structure to its partners, store customers and distributors.
The After
Upon announcing the licensing shake-up in June 2019, hosting unlimited cPanel accounts on a single server has effectively ceased to be an option. From that point on, you are required to obtain a license according to the number of accounts and plans you have added on your server. The annual model of billing had also got to go due to each license being automatically converted to monthly as soon as it faced renewal. Observing the course of evolution in the web hosting industry, it's an easy guess that pricing updates are here to stay, and there's no other way but to get your business ready for them.
But is this really that sudden and unexpected? After all, technology is advancing by leaps and bounds these days, and it's not that hard to imagine what the effect of this will be in the long run. Adapting to ever-new trends may often prove costly, not only for customers but companies as well, especially when one is still forced to deal with pandemic-induced consequences of one sort or another. Changes in price are often the only path for a business to keep up with the quality and technological standards of the world market, not to mention grow the product with extra potential that would otherwise never be accessible.
The Remedy
Although many users initially looked around for an exit door, time has shown that quality always wins as most of them ultimately decided to stick with the tried-and-trusted solution they are so well accustomed to. Thanks to our anonymous survey, we have gained a way more intimate view into what these businesses have been going through.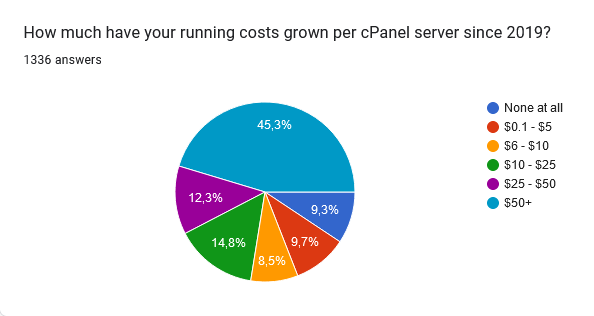 This valuable input also helped us devise a tool focused in every detail on reducing your running cPanel costs.
Inactive Account Manager For cPanel will revolutionize your habitual patterns of managing web hosting services by unlocking easy access to all key data on each detected account, and more importantly, allowing its suspension or termination to be carried out either manually in bulk or in a fully automated manner.

As a practical bonus, to always keep your clients up to speed, you will get to compose custom email notifications to be sent whenever any change in the status of the service occurs.
Well, now there's only one question left to ask: are you ready to give your web hosting venture an instant financial lift?
cPanel Pricing - The Before, The After & The Remedy

,