Spooktober brings out the inner child in us every single year, doesn't it? No matter how old we are, carving pumpkins is what we eagerly look forward to since brown leaves start falling from the trees. It's also the time when we can finally consume sweets without guilt trips, an occasion as rare as hen's teeth. Not in all cases, though – did you know that in some cities in the United States of America kids over the age of 12 can face a fine of up to $1000 for trick-or-treating? Even more terrifying than seeing monsters roam the streets on October 31st. Fortunately, there is no age limit to become part of the thrilling contest we've prepared for this year's Halloween!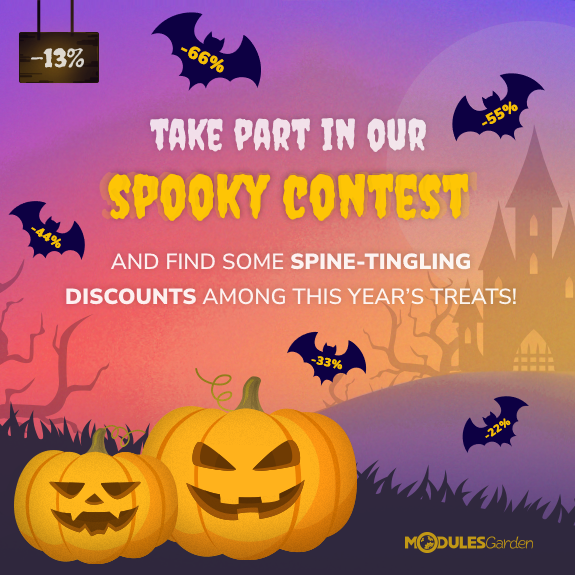 We want to play a game… but the rules are very simple. All you have to do is try to answer the following question in the comment section:
How many of our WHMCS modules are integrated with at least two other modules from our offer?
Count them up or take a quick guess, you may be just right! We'll help you a little bit: the information needed to solve this riddle can be found on the product pages, usually under "Features" → "General Info" (but not only!). Search for pieces of information like that seen when viewing Proxmox VE VPS For WHMCS, but beware that not all of them can be hunt down that easily: 😈

🎃 Five participants to give an answer closest to the correct one will be awarded with spine-chilling 22, 33, 44, 55 and 66% discounts to be used with the annual license of every single module offered at our Marketplace.
🎃 If you don't win the game, don't worry – Jigsaw isn't coming. You won't be left empty-handed, as you'll still be given a few more moments to treat yourself to a deadly serious 13% discount on our whole offer! Use the below code and may luck be on your side during this scary time. Mwahaha!
The promo code: #DeadLucky13%
We will be waiting for your replies until 2nd November and the winners will be announced right below this article on the very same day, so keep your eyes peeled. Good luck to you all!
Score a spooky deal and don't get haunted by regret!

,