Each year when Christmas is almost upon our doorstep, the entire ModulesGarden team groups together to take a look at all the blessings the past 12 months have bestowed us with. Please accept these heartfelt words of appreciation for your absolute trust in our services – without your support our company would exist in the name only. May this long-awaited holiday season bring you a well-earned rest and breathe into your life nothing but peace, joy, and felicity!
Also, we have a little puzzle to entertain you with before each of us departs to cherish all the joys of this wonderful time in their family circles. Here it goes: what is it – easy to give and great to get?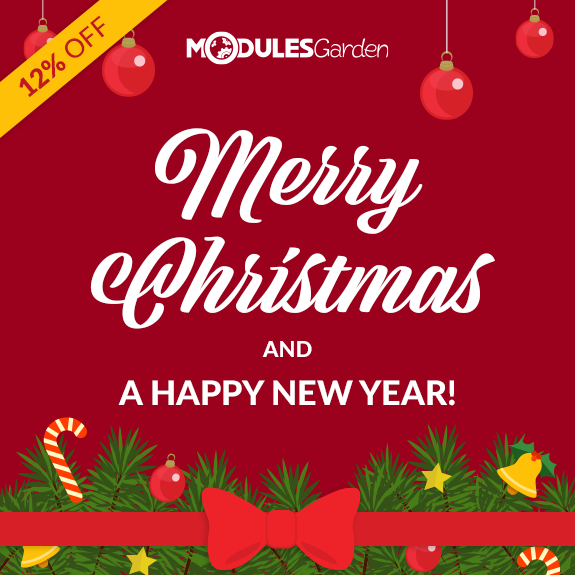 Christmas presents! Okay, this was probably not the most difficult riddle ever, but it proves fundamental to the claim that lead us here today – it is those little, meaningful gestures that posses even greater power than words. Hence we are rushing to announce that this year Santa's little helpers provided their valuable assistance also to us. As a result, for the next two and a half weeks we are not ModulesGarden any more… you are free to call us PresentsGarden! Celebrate our sparkling holiday promotion from now up until the end of January 6th, 2020 and search for your favorite Christmas gift with this incredible 12% discount on every single product from our Marketplace!
Promo Code: HoHoHo12%
For the price cut to be applied correctly, all you need to do is to provide the above code in the appropriate box while completing your order. Oh, and before we forget – you may count on our striking Christmas Promotion being freely combined with other ongoing bargains such as Deal Of The Day and Bulk Discount.
Lastly, since Christmas is the time that everyone spends surrounded by family atmosphere, we all wish to celebrate this magical season accompanied by our nearest and dearest. Therefore, we want to bring to your notice that our support services will be limited on the 25th and 26th December.
Believe in the magic of Christmas!
Ho ho ho!

,