At ModulesGarden we have been on a clear-set mission since the very beginning of our software development adventure – to make day-to-day business management easier for each web hosting enterprise around the world. Having such a clear objective in mind, we embarked on this travel full of hope and faith in the bright future ahead. But none of us did then have the faintest idea that after so little time we will receive recognition among over 25,000 customers from all over the globe! As there will not be any more perfect occasion than that to tell you all how much we value your presence, faith and support exerted on our company, please accept our most heartfelt – thank you!
We wish to take this exceptional opportunity to recollect some of ours most noble achievements and milestones reached thanks to every single one of you, our beloved clients, by our side – it has been a challenging and exciting path, fueled by incredibly hard work, much talent, countless cups of coffee, and undying passion for software engineering. Among the accomplishments we boast of the most is our continuously expanding collection of nearly a hundred ready-made WHMCS modules next to thousands of custom software development projects delivered into the hands of the most demanding business entrepreneurs. What we are particularly proud of is the very recent launch of the absolutely unprecedented, complete WHMCS Cloud Billing solution with an end-to-end AWS integration. Aimed at expanding your target audience and broadening the scope of available revenue channels, the tool is meant to remove the pain of managing separate invoicing systems and automate the entire billing process from A to Z.
While our faces fill up with an ineffable sense of pride and accomplishment upon reviewing those victories, we are nowhere close to the end of our adventure! In the forthcoming future, we hope to reach even more spectacular heights with your unspoken patronage. So, what is on our agenda for the upcoming months? A while back we have started the development of three brand-new products that are bound to leave you at awe once they see the light of day. First off, you will soon receive the opportunity to bring maximum automation and comfort into reselling your products with our innovative Products Reseller For WHMCS. Not to mention that we are also putting the last final touches to the fully customizable One Step Checkout Template For WHMCS solution that along with the truly pioneering Google Cloud Billing For WHMCS will take effect in the second quarter this year – be ready!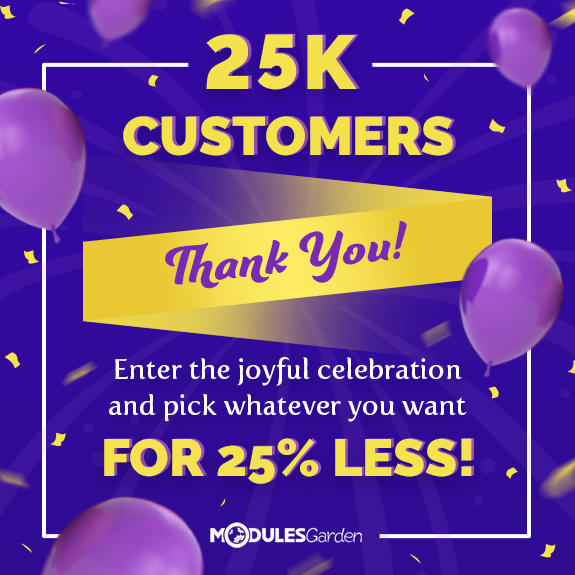 Even after saying all the above, the main reason why we are all here may still be a bit of a secret. We are rushing with the exciting unveiling then! For this significant moment on the ModulesGarden timeline we feel particularly obliged to direct a due dose of attention to all of you, our dearest clients, about whom this celebration is really all about. Feel warmly invited to treat yourself to our two special offers!
Unlock for yourself the staggering possibility to save 25% on the purchase of every single product available on our Product Marketplace.

Promo Code: ThankYou25K
For the price cut to be added correctly, simply copy the above code and paste it in the appropriate box while at the checkout. Be sure though to make most of the promotion before the end of March 15th, 2020!
Set off to the Product Marketplace!
Thirsty for more? Here comes our second treat!
Briefly describe your partnering with ModulesGarden and leave the story in the comments section down below before our promotion vanishes for good at the end of March 15th. We will then randomly choose the three lucky winners out of all submissions who will receive extra $25 in credits to be used for absolutely anything until the end of June 2020.
We will be awaiting your answers with bated breath!
Cheers to the 25,000th member of the ModulesGarden family!

,