We have over 5000 satisfied customers and we are very proud of this! Thank you for the confidence you have in our company. Thank you for your feedback, understanding and above all, for your patience. We are very grateful for your support and we definitely intend to return the favor!
We created, therefore, a marvelous, free widget for WHMCS that allows you to be always up to date with ModulesGarden activity, but not only. It displays the most recent news, available module updates, and most importantly – exclusive promo codes and discounts visible for widget users only! ModulesGarden Widget For WHMCS will check whether your installed modules are up to date and will inform you when there is an update available, leading you directly to the changelog.
As a token of our gratitude, we have prepared a special 10% promo code which you can use to purchase any module from our offer. You will find the code inside the widget. What is more, from time to time we are going to share special promo codes via the widget only, so it is really worth looking into it once in a while.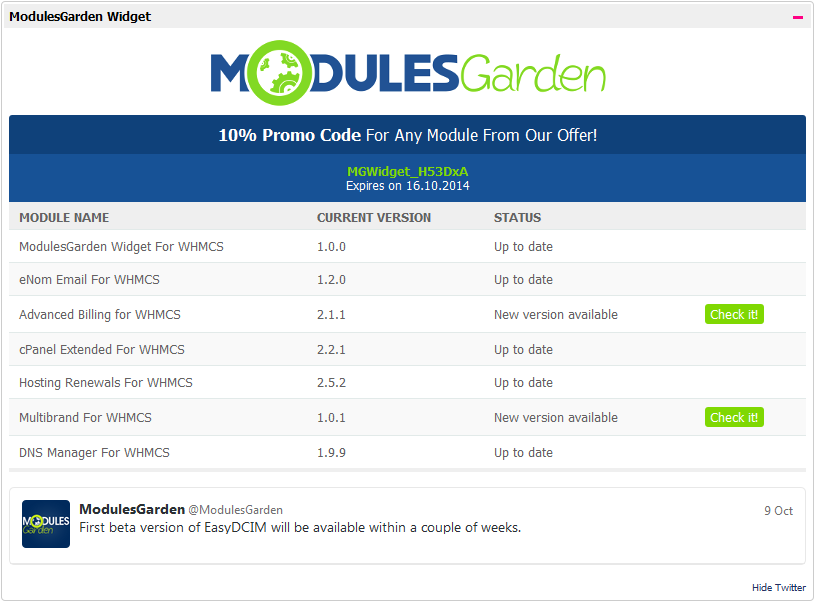 Benefits:
You will never again miss even the smallest update of your favorite modules
Access to special discounts and promo codes shared via the widget only
Be always up to date with the most recent activity of ModulesGarden
Sounds good? Find out more and download the free widget from our website!
5000 Customers And Free WHMCS Widget

,