Since 2011, ModulesGarden has been on the lookout for unique solutions for the web hosting industry. With this goal in our minds, we relentlessly strive for excellence to bring you answers to the questions on how to stay competitive and succeed in business.
We take immense pride in launching three brand new services designed to help your business spread the wings. These all-in-one solutions will let you discover the possibilities unknown before, and reach the peak of your company's efficiency and online presence.
After expanding our business units and months of thorough preparations, we are more than ready to influence your venture and amaze you with:
DEVOPS OUTSOURCING
Our experts will perform a complex audit of your current IT infrastructure, create a detailed report and even help you implement required changes. Moreover, we can take care of monitoring, maintenance as well as implement new products and environments for you. Read more!
PREMIUM ASSISTANCE
Lost time cannot be reclaimed and we understand that very well. Go for the priority access to our custom software development and technical support services based on a monthly subscription plan to make your life easier and focus on what is really important to you. Take direct control over a hired software developer and get things done swiftly. Read more!
BUSINESS CONSULTING
We will help you create an effective business strategy, boost the appeal of your product offer and even assist you all the way through building your own web hosting company from scratch. What is more, we will show you how to stand out from your competitors and also handle technical support with platform management for you. Read more!
We sincerely believe that our new services will win your approval and contribute to your success. Feel free to visit our website anytime and click on the new 'Services' tab to learn more. Our business advisors are ready to help you achieve your goals.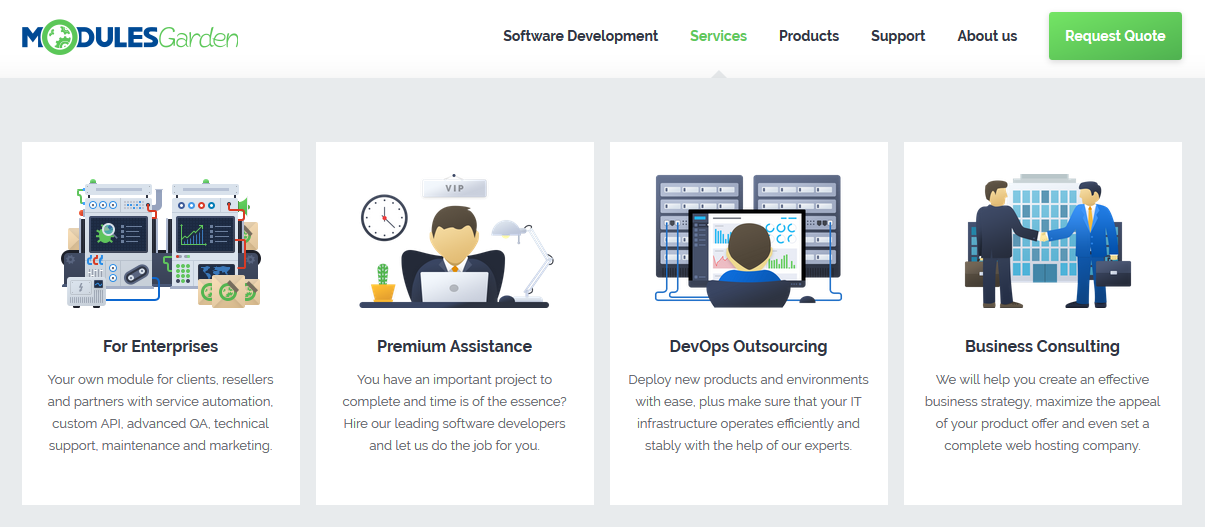 All-In-One Solutions For Your Business

,