No matter if you are 21, 38 or 64 – there is a child hidden in every one of us. Probably the main reason why we all love the fun, and scare of the Halloween season so much! For one day we can all become whoever we want, and indulge ourselves in the consumption of crazy amounts of delicacies with clear conscience. But, out of concern for your well-being, today we have for you a much healthier alternative of Halloween treats, and certainly more suitable to your age!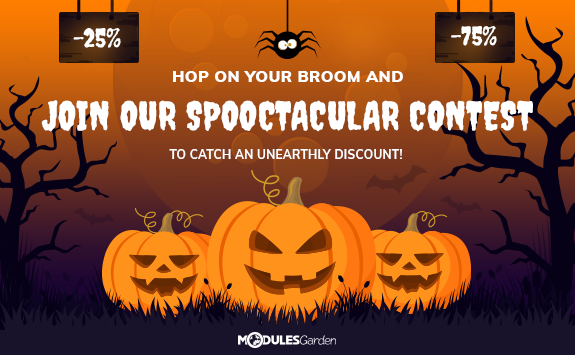 Join in our fang-tastic contest and make this year's Halloween the most memorable one ever! To enter the game, simply post in the comments your answer to the following question:
How many of our WHMCS modules are offered in the 3.0.0 version, or higher?
The first person to provide the correct number (or the closest one) will be awarded with a spooky 75% discount on any WHMCS module in the annual license they choose.
The next five participants

to provide the correct number (or the closest one) will receive the no less

tempting 25% discount.
Have a taste for a different type of treats, perhaps?
Which 3 of our WHMCS modules have the biggest number of updates in total?
If you are the first person to guess this bonus question correct, a bewitching 50% discount will soon fall right into your hands!
We will be awaiting your suggestions with spine-tingling excitement until 13th November, and a day later, on 14th November the winners of both categories will be announced in the comments section below. Keep your eyes wide open!
Please note that one person is eligible for a single discount only. The three deals cannot be combined with one another, or any promotions available.
This year on Halloween at ModulesGarden there are no tricks, only treats!
Test your luck in our spooktacular contest and score a deal that will chill you to the bone!
Stop In For Some Haunting Deals!

,