With 2017 winding down and 2018 on our doorstep, the entire ModulesGarden team joins in wishing you all the best in this upcoming year. May all your future endeavors garner nothing but success and appreciation, and the work you keep doing always go hand in hand with your personal as well as professional growth!
As we look back upon the past twelve months, we realize how much progress our own company has made throughout this time and how many milestones we have reached with you, our cherished clients, by our side.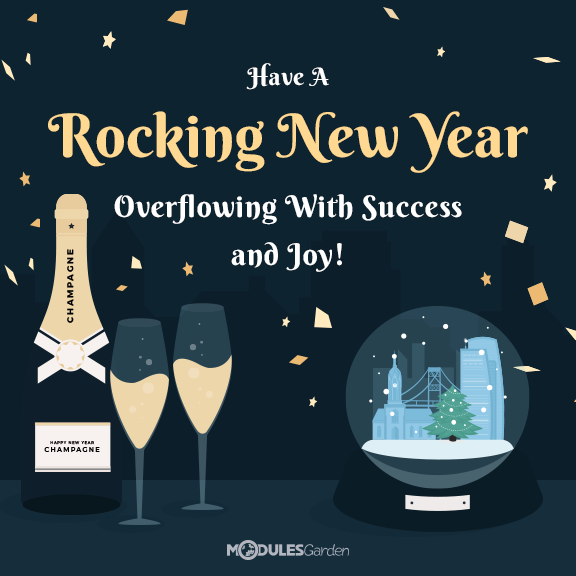 Here is the list of accomplishments we are most proud of this year:
236 updates of both modules and extensions altogether.
10 novel modules and extensions realeased.
3500 more clients boarded our ship.
Complex package of 3 new services broadened our offer to drum up your business: Premium Assistance, DevOps Outsourcing, and Business Consulting.
Over 500 positive opinions received from you on the innovative design of our brand new website, Marketplace, and the client area. Look out for even more attractions on the horizon of 2018!
Extensively optimized Software Project Control Center section accessible from the client area allowing for a convenient project status tracking, unobstructed exchange of information, and more precise project quotation.
Two more attractive bargains introduced:
- Bulk Order Discount – purchase more products and pay less thanks to the additional discount generated automatically while placing an order.
- Deal Of The Day and Deal Of The Week – uncover new products at a discounted price every day.
4 modules bolstered with a brand new code and ultra modern framework, setting a new direction in the development of our products:
- Resellers Center For WHMCS 3.0
- Domain Orders Extended For WHMCS 3.0
- Hosting Renewals For WHMCS 3.0
Since none of these accomplishments would be even remotely possible without your help, let us know which of the upgrades amazed you to the greatest extent.
But we have boasted about our successes for too long. Now it is time for you to show off your most admirable achievement of the past year and unlock for yourself a possibility to win a staggering 33% discount on any product from our offer (open source version excluded) valid for three months. Leave a comment in the section below until 15th January and we will randomly choose three out of all most ingenious submissions – just to be fair and objective.
Claim the reward for your above-average effort and charge up for the new year ahead!
Slashing New Year!

,