There are some particularly notable points in business paths of all kinds that justly deserve a special attention. For all of us in ModulesGarden it is undoubtedly the arrival of the 101st product in our offer!
As the scope of our offerings turns into a three-digit number we are brimming over with great pride but also a whole lot of fresh motivation and pleasurable excitement at what we are yet to achieve. From the very outset of our hard work we have aimed at presenting you with the utmost diversity of first-class solutions designed to bring a wealth of ease into your business efforts. Today, we see our offer as over hundred unique routes into bolstering your professional flexibility and innovation.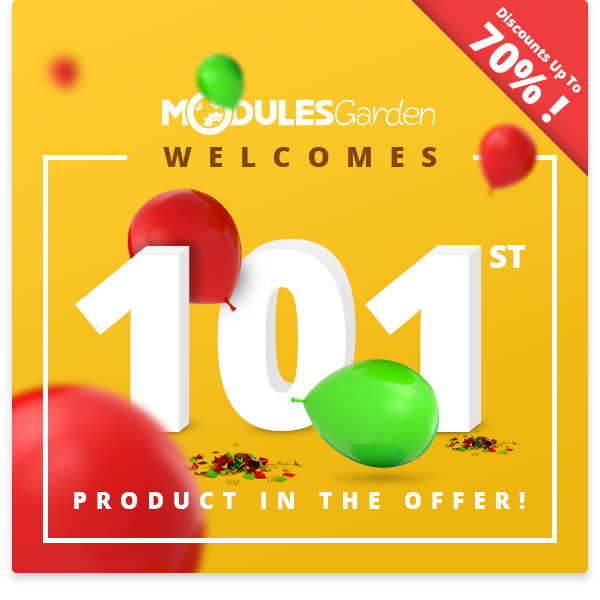 And we wouldn't be ourselves if we did not come up with a splendid set of promotions to let you celebrate this special milestone with us! What we have prepared as a token of our heartfelt thanks for your always constructive and apt feedback is utterly unprecedented.
This discount is far from ordinary as its level depends strictly on the range of products you currently own. The more modules you already have, the bigger discount you may receive! The benefits are at the fingertips of anyone who have as little as 3 modules or more. Take a look below to discover how much you can save exactly:
3+ → 10%
6+ → 15%
10+ → 20%
15+ → 25%
20+ → 30%
25+ → 35%
30+ → 40%
35+ → 45%
40+ → 50%
50+ → 70%
So, for instance, if you currently have 17 products from our offer and wish to purchase 4 more – you fall into the 15+ tier and therefore you are granted a 25% discount for the entire order. Simple and profitable!
But that is not the end of surprises. This momentous occasion is worthy of absolutely special celebration and thus we have decided to include open source versions of our modules in this promotional action as well! The very same rules apply: the discount value increases along with the number of products that you have already bought.
3+ → 5%
6+ → 7%
10+ → 10%
15+ → 12%
20+ → 15%
25+ → 17%
30+ → 20%
35+ → 22%
40+ → 25%
50+ → 30%
If you wish to take up this absolutely unequalled opportunity, simply join us in a ticket entitled '101st Product Milestone' and list the modules you want to purchase. We will take care of everything else! These special requests can be submitted for a maximum of 10 products in a single order. We welcome them up to and including October 31st, 2016.
New Product Milestone Reached!

,