There is something special about the spring season that motivates business owners to breathe some innovation into their business routine. And what better way to do that than by adding a touch of customization into your current software, right? If you enjoy the unlimited flexibility of tailor-made solutions, but at the same time need to keep your budget in check, you have come to the right place!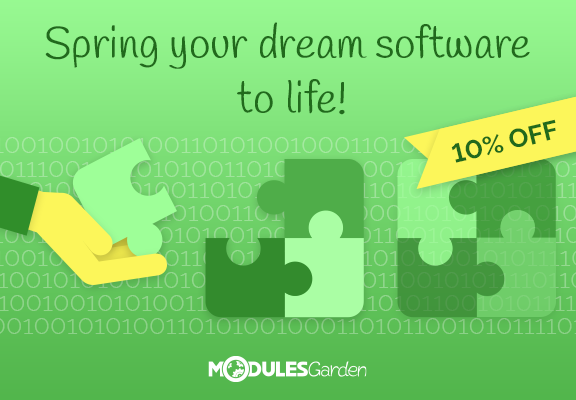 We are excited to be launching a spring-inspired 10% discount on all custom software projects developed by ModulesGarden! The promotion extends to each and every implementation paid for up until the end of April so there is no time to waste! As an extra bonus, we guarantee speedy solution delivery and the works on the project to be started in even seven seven days after request acceptance.
Ready to get the ball rolling?
Feel free to reopen the existing ticket if you already discussed the specifics of your bespoke implementation with our advisors at any point in the past.
Alternatively, fill out this brief Custom Software Development Form and tell us all about your requirements to receive a free quotation.
As you can see, beyond the standard steps there is nothing at all you have to do in order to snap up this gripping 10% discount. Just be quick and precise to maximally speed things up – we will handle the rest!
_ _ _ _ _ _ _ _ _ _ _ _ _ _ _ _ _ _ _ _ _ _ _ _ _ _ _ _ _ _ _ _ _ _ _ _ _ _ _ _ _ _
Lacking vision of the software that would bring out the best in your company? To give you a better perspective on the broad range of solutions our IT magicians can create for you, we have compiled this list of sample implementions:
Custom payment gateway for Resellers Center For WHMCS and Multibrand For WHMCS – even from $150
Fully-featured provisioning modules
Personalized reports for Report Generator For WHMCS module or WHMCS in general
End-to-end orders automation
Payment gateway integration
Custom order page
Domain registrar system
Third-party software integration
Systems for data migration and data synchronization
VPS provisioning module (such as DigitalOcean Droplets For WHMCS)
Integration of Advanced Billing For WHMCS with other modules to enable resource usage charges
Even more advanced DNS zones management for DNS Manager For WHMCS or cPanel
Complete modules dedicated to the WHMCS platform built from scratch
Assorted modifications to the current modules or systems
Feeling inspired?
Learn more about our custom software development services, leave your genius idea with us and we will turn it into a ready-to-work solution before you even know it! Not to mention the real size savings you can pick up this spring too!

Save & Thrive On Custom Software!

,