About four years ago a bright idea came into our heads for a solution aimed at helping business owners gain better control over a heap of DNS aspects by way of skipping the cumbersome necessity to command several systems at once. This very concept catalyzed the progressive development of the product which now all of you know as DNS Manager For WHMCS. Although in its initial version the module covered merely a basic oversight of DNS zones with only 4 types of servers it was already clear that it is going to be a complete game-changer in realm of DNS management software.
Throughout the years, the original idea has blossomed into a complex state-of-the-art solution at the leading edge of the industry. For this reason we are especially proud to announce the release of long-awaited version 2.0 of DNS Manager For WHMCS! The update opens a completely new chapter in the process of development as the module has been rebuilt entirely from scratch. It has undergone extensive and thorough redevelopment both in terms of performance and appearance. We have been working round the clock for several months and devoted our all-out efforts to make sure that the final result will satisfy even the most demanding of modern business needs.
DNS Manager For WHMCS 2.0 comes with plenty of superb possibilities which bring DNS management to a whole new level of flexibility. You will enjoy these from the very beginning of your 2.0 experience. Fresh feature has been introduced already at the configuration stage. The new ability to disable a server will prevent from creating further zones on it. This will prove especially useful if server fills up, in the process of migration or in case of server failure. The update also introduces the option to enable rDNS as well as multiple PTR for numerous servers, not just for one like it was before. What is more, you will be able to store zone records in WHMCS cache which will optimize the loading time of your resources.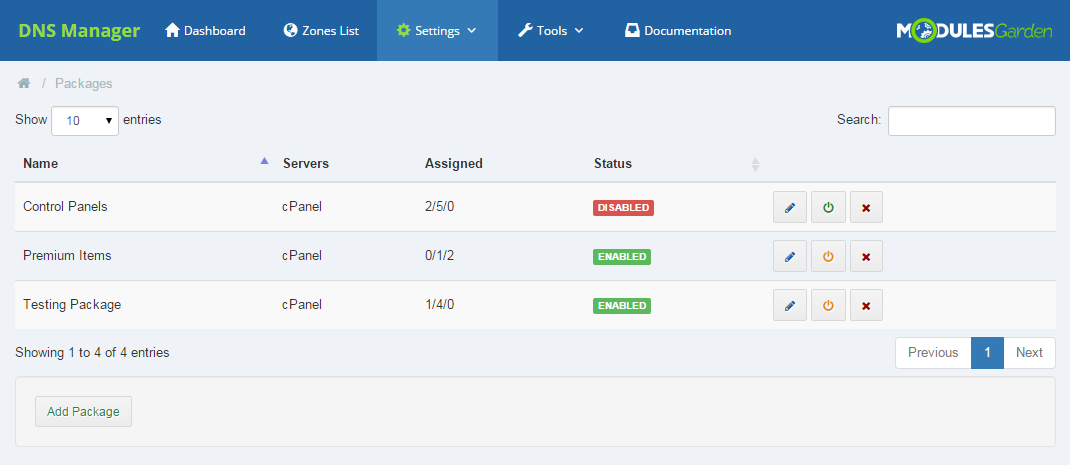 The focal point of DNS Manager For WHMCS 2.0 is the implementation of packages. Packages are the innovative way of linking products and servers together through various settings and limitations. You will be able to create different variants of packages to personalize your offer more precisely and adjust it dynamically to the changing needs of your clients. The solution provides a great source of flexibility as it allow you to assign multiple packages to multiple servers while multiple zones can be created under single package. Sounds convenient, doesn't it?
The configuration of a package is extremely easy and intuitive. All you need to do is define products which purchase result in getting a package, select servers used by a package and set limits for previously chosen record types. And that's it! What makes the whole management even more user-friendly is the fact that you no longer need to go to the client area in order to edit zones after their creation. Now you can do it directly in your admin area!
Thanks to the revamp you will be also enabled to define multiple DNS records set instead of just one! Along with it, you will be able to choose whether your clients are able to restore zone using given DNS records set as well as define which sets client can choose from for this purpose.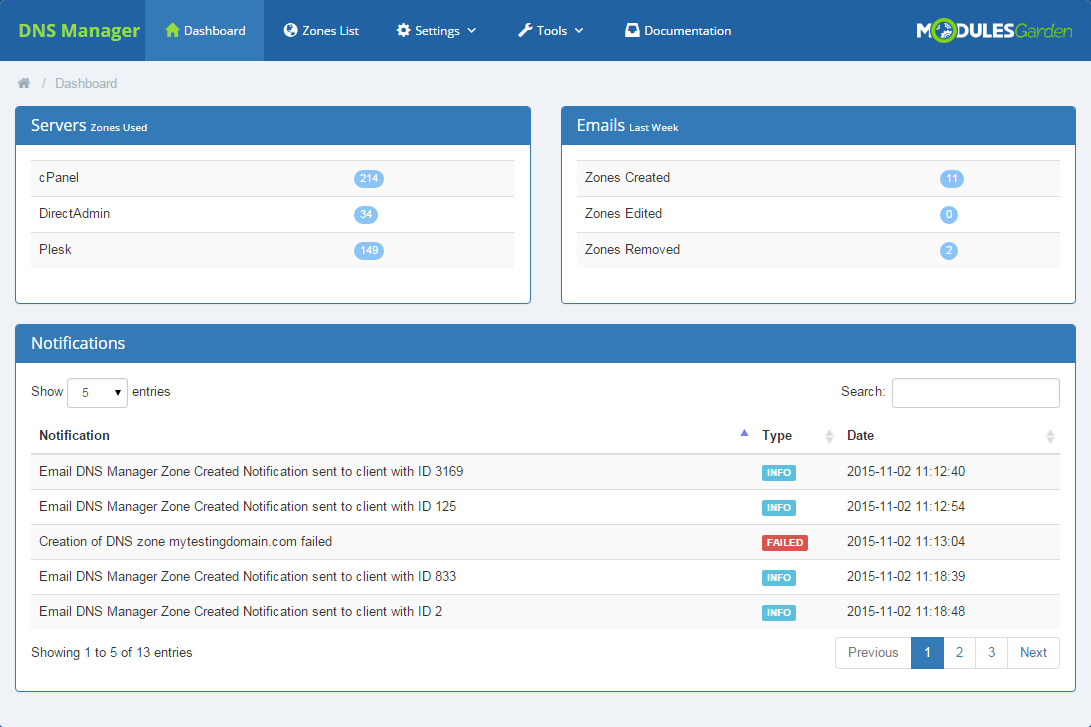 No less important is the fact that version 2.0 has been enriched with a dashboard which will allow you to monitor the usage of DNS servers, check the number of emails sent to your clients (which themselves are a new feature as well!) and view the most important notifications requiring your attention, e.g. zone creation failure or the outcome of cron execution. All key information at your fingertips!
We could go on and on with this introduction but there are simply too many novelties in DNS Manager For WHMCS 2.0. We strongly encourage you to take a look at the changelog to discover all new features and further improvements introduced to the module. And since the first impression is what counts the most, do not forget to share it with us! Let us know about each of your thoughts and suggestions for the new functionality, we will surely keep your discussion under review for future updates.
That is not everything. We prepared for you a 25% promo code valid for two weeks! Celebrate this great event with us and enjoy the brand new DNS Manager For WHMCS!
The promo code: DNS2_MG#25
The Milestone Release Of DNS Manager For WHMCS 2.0

,