With Christmas just around the corner, our entire team joins in sending you and your loved ones the warmest wishes of serene and cheerful Holiday Season. May the run of good luck and fortune never end, bringing your way throughout the entire 2021 nothing but self-fulfillment, and glorious triumphs in all business matters!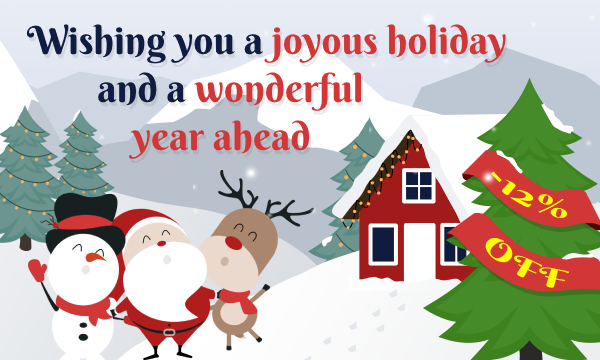 As always at this nostalgic time of the year, we hit a well-deserved pause to reflect on how far on our professional journey we have already come, and get excited at the direction we are heading in with our software endeavours. 2020 was a tough year on a number of levels. We have been forced to keep our distance, and spent almost zero time working side by side. However, despite the trying times we all experienced, we made sure no job has been lost. If anything, we have become more of a family, and are working actively on getting it even bigger in the near future. By sharing the same strong passion for innovation, we have pulled off some amazing feats in 2020, and got even more companies faring better with the help of our software. So, grab a drink, pull up a chair, and enjoy this insightful flashback through the past twelve months.
Go big or go home, or for 2020…
Go big from home
This year coronavirus has been shaking up the familiar patterns in business and consumer habits on a staggering scale. And though the full aftermath of this black swan event is yet to be determined, it is already plain that the pandemic has triggered irrecoverable change across industries. While many companies have felt the inevitable pain of reducing or suspending daily operations, we have rised to the challenges that switching to remote working almost overnight brought on, and weathered the logistical storm. There hasn't been a day that we stopped working our socks off to ensure the battle you are fighting for your business is not a losing one. Quite the opposite, we have stepped up our efforts to produce even more module updates as well as entirely new products.
We hope all this has proven definitively how strong, flexible, and sensitive to your changing needs we are. We feel both humbled and honored that our software has been helpful to you in surviving the first and worst blow of a sudden crisis, piloting your business to new horizons ahead of the competition, instead of falling into stagnation and financial decline.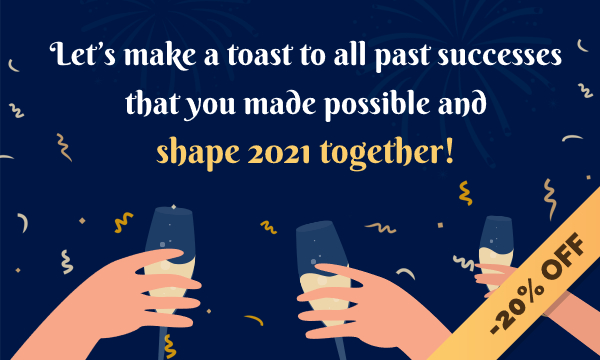 At the same time, this is you, our dearest client, who has from day one been an integral part of our company's triumph against the pandemic odds and difficulties. Without this unspeakable amount of understanding and patience that you showed us throughout the often thorny processes of adjusting our workflows, it would be twice as hard for us to settle in this not-so-normal new normalcy. If there is one thing we want you to know and always remember is that you can safely rely on our all-encompassing assistance in any sort of situation life throws at you.
Furthermore, we owe a word of most heartfelt appreciation to our code whisperers, support service rockstars, quality assurance magicians, and all other teams of ModulesGarden whose hard work and genuine commitment kept our company from drowning in those hectic times.
Cloud billing has never been that simple
After months chock-full of intensive coding sessions, we made a grand entrance into 2020 with the trailblazing WHMCS Cloud Billing project that has finally plugged the long-lasting gap in the market with a tool empowering the providers of Amazon Web Services to manage all aspects of their customer billing in the most convenient way, that is without ever leaving their WHMCS system. Supplied initially with a complete AWS integration, Cloud Billing For WHMCS is under nonstop development, and will soon be upgraded to support another major cloud computing platform – Google Cloud.
Over 25k happy customers
The dynamic growth of customer base is no doubt a significant benchmark of the company's success, don't you agree? This year we feel truly humbled for the privilege of being the number one software house for over 25,000 customers. The arrival of the 30,000th partner in our business family is only a matter of days now!
Smooth transition into the future
Making sure that all products remain closely suited to the fast-paced evolution of WHMCS is a timeless objective to pursue, however, 2020 boasts some particularly outstanding achievements in this field. After the series of comprehensive quality assurance and testing procedures, our Marketplace entered a full-scope integration with a landmark 8.0 generation of WHMCS!
We have no intention of slowing down, and thus are working full steam to ensure that every single module has been thoroughly tested in terms of a visual and functional compatibility with the upcoming WHMCS 8.1 as well as the fresh "Twenty-One" system theme based on Bootstrap 4.
Entering 2021 with a bang
These past months were also filled with painstaking work shoulder to shoulder with our good friends at RS Studio on the solution long sought-after by many – Lagom One Step Order Form For WHMCS. Stay tuned and follow closely the news not to miss its official arrival due early next year!
2020 in numbers
Since nothing appeals to the human mind quite as much as numbers, see for yourself the high bar of quality and performance that ModulesGarden has risen to meet this year in form of pure statistics.
3 rebranded modules with exciting new features:
5 brand-new products built from the ground up:
160 module reviews submitted by satisfied customers
212 completed custom software development projects
368 module updates in total
10,713 successfully resolved tickets
But since nothing of this would be even remotely possible without your all-year-round support and faith in our purposeful mission, it is only fair of us to return the kindness by launching a special Christmas promotion! Look below for an earnest token of our appreciation – a 12% promotional code available until January 8th, 2021, and extending to all modules listed in our Marketplace!
Promo code: #Hello2021
Let's wrap up 2020 with a toast for every single milestone we have achieved together, and reach ahead with optimism for all brave opportunities that yet unfold on the horizon. Speaking of which, what other new heights would you like us to reach in these following months? For our part, being mindful of how important our timely and informative guidance is to your workflows, we pledge ourselves to fostering the standards of our technical support services with solutions certain to have a positive impact on the speed and quality of responses made by our support agents on a daily basis.

Let the comments section below be the place of a brainstorming session for all kinds of personal expectations regarding our products and services. And to kick the discussion up a notch, we will randomly pick three out of all most profound submissions, and reward the authors with an exclusive 20% discount.
Let's make 2021 our best year ever together!
A stroll down memory lane of 2020

,